Petaling Jaya, Thursday 30th June 2022 – Electrical & electronic chain store TBC Elektrik Sdn Bhd celebrated its 16th Anniversary in style with a fun and exciting "Sea U There Night" beach themed party in honour of its employees, suppliers and collaboration partners, which was held at the Surf Beach in Sunway Lagoon today.
Its "birthday party" saw a mix of more than 350 guests that included various VIPs, FOMEDA & SWEDA committee members, celebrity guests, key influencers, business partners, finalists of Mrs Malaysia Universe, TBC employees and members of the media, attending the milestone event.
Founded by its managing Director Rico Lee Eng Soon in 2006, TBC Elektrik Sdn Bhd first started out as a handphone retailer at the business and commercial hub of Bandar Baru Sg Buloh. TBC later expanded the business by tapping into new markets dealing with the trading of electrical & electronic home appliances such as televisions, refrigerators, washing machines, air-conditioners etc. It was the beginning of an iconic brand in the consumer electronics industry.
Lee, through his hard work and dedication, successfully has driven TBC to become one of the leading retailers of home appliances with 17 branches located strategically around Klang Valley at an expeditious speed, and has made TBC into a household name for its affordable, quality products as well as for excellent service.
The company was awarded "The Best In Innovation-Electrical Chain Store" at the Lang International Corporate Titan Awards 2019. TBC is also a member of SWEDA (Selangor and Wilayah Persekutuan (KL) Electrical Home Appliances Dealers' Association)
In his welcome address, the charismatic Lee spoke in depth about their journey in the industry and thanked all involved for being an essential part of their organization's growth and success.
Despite the pandemic, Lee was proud to announce that the company had managed to achieve 90% of their sales target of RM 100 million last year.
"I am delighted to share that this year, optimistically, we are on track to achieve our target of RM120 million.
"As of 30th of June, we have already reached RM60 million," Lee further added to thunderous applause from all attendees.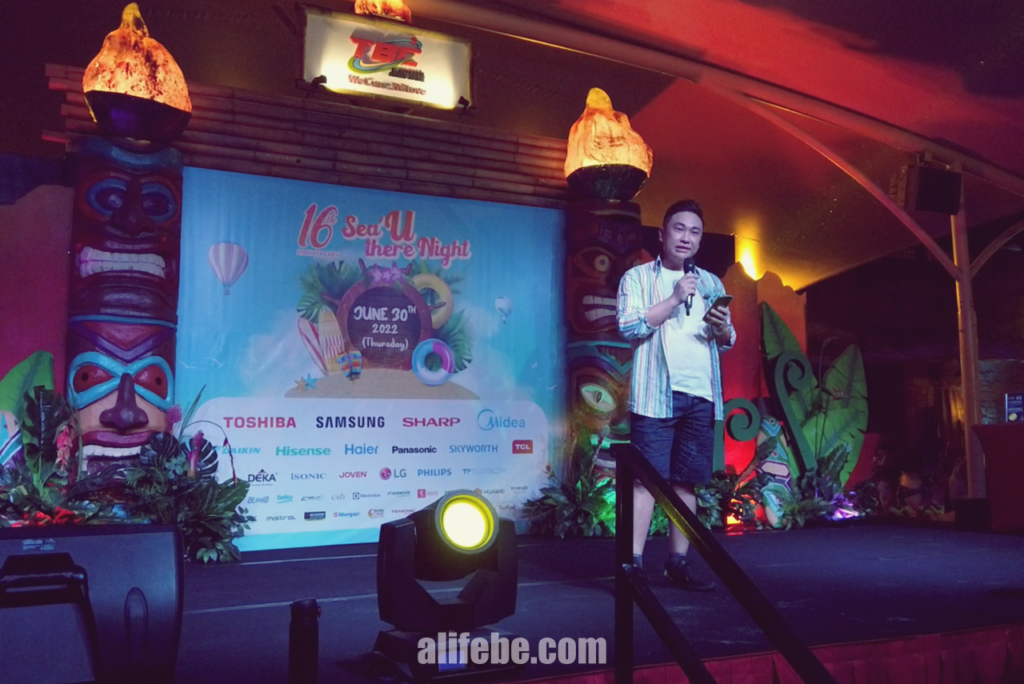 Lee also shared his vision to take to make TBC future ready.
"Well, allow me to share with you a few Chinese words. To those who can understand Chinese I wish to share with you TBC's direction ahead which is "全面升级" . I would use the word "Elevate" to represent our vision, meaning that we are taking TBC to The Next Level," Lee excitingly expressed.
TBC will be allocating half a million ringgit for their first implementation of a Warehouse Management System (WMS) & Order Management System (OMS) through a 9-month long project, in order to enhance their logistic management process as well as to customize their information management system, to gain better efficiency for their organization.
The WMS is expected to redefine their warehouse SOP and enable them to transform their warehouse to an Automated Smart Warehouse that will allow them to track the movement and visibility of their inventories accurately. Inbound receipts and outbound deliveries are better managed with improved operational efficiencies and by eliminating unnecessary non-productive activities.
The Covid-19 crisis had accelerated an expansion of e-commerce and the OMS will help ensure a more accurate inventory management, combining order data across multiple channels such as Shopee, Lazada as well as their own in-house web store and coordinating with third party logistic providers for order fulfillment and shipment efficiency.
"The integration of WMS and OMS will streamline our warehouse operations and order fulfillment by simplifying processes with automation. This is expected to take TBC's business to the next level without the expense of having to hire a huge team" Lee further added.
Lee also spoke about the TBC's retail expansion. The company had planned to add 7 new outlets in 2022 and had successfully executed its plan and completed setting up 5 new outlets to date.
"Moving forward, we will embark on an aggressive expansion drive in the next two years and plan to open as many as 30 stores across Klang Valley. By end of this year, TBC will be having 21 retail outlets and 7 online stores." Lee shared.
Lee also spoke about the company's financing expansion by looking into ways to finance business expansion by tapping into private equity sectors as well as properties investment together with business & financial consultants.
TBC has also invested in a new human resource system to ensure better management of their human capital, HR data as well as wage calculation processes. At the same time, TBC is working closely with legal advisors from YYC to develop new HR agreements with better schemes and more benefits for their employees in order to retain talent and establish a healthy work culture in their organisation.
For their elevation for capital expansion, TBC has developed a successful business model, by kick starting their expansion in a more cost-effective way, working on franchising with a franchise consulting company. They are now in the process of completing their franchising manuals, agreements and licensing structure, with the strong belief that it is not only the way to grow their business but that it is also important for brand recognition.
Lee also emphasised, "with the anticipated growth and expansion, we need to emphasize our warehouse. As mentioned last year, we are going to establish a new warehouse on a 1.5 acre land to meet the demand. We are expediting on this and very soon I hope to see all my suppliers and business partners with me at the ground breaking ceremony."
Apart from striving to serve its customers better, the company's vision is to continue emphasizing and enforcing the TBC philosophy of "WeCare, WeLove" in order to provide customers with trustworthy products all of the time and to serve them genuinely from the heart.
"We at TBC are also committed to giving back to the community and as a team we will continue to play our part to do more charity and fund-raising drive through our 'We Care We Love' campaign." Lee assured.
TBC has made a donation to the Ulu Langat school in memory of Lee's late mother Tan Bai Cheng (TBC) who passed away in February 2022. She was born and bred in this town.
TBC also helped flood victims by making donations to several organisation that assisted the flood victims. They have also sponsored lion dance troupe Brilliant Lion & Dragon Dance Team from Selangor in order to keep the culture and tradition alive. As it continues to grow, TBC is committed to doing more for the less fortunate.
"Well, it has been a challenging and tough year where most of us work harder than ever to maintain our income and standard of living, however, I am very proud that my team, being challenged beyond their comfort zone made us become stronger and more efficient." Lee beamed appreciatively.
Lee concluded his speech by saying he is a Malaysian who loves his country.
"Saya anak Malaysia dan saya cinta dan sayang pada negara kita."
"To me, being a homegrown brand is synonymous to being a Malaysian. Thus, I hope all my business partners, team members, family & friends will continue to support and assist TBC Elektrik Sdn Bhd in order to stimulate the country's economy, creating more job opportunities and as fellow Malaysians, do our part to bring glory to our beloved country."
Also taking to the stage to deliver their special notes were key representatives from platinum sponsors Samsung, Sharp, Toshiba and Midea. This was followed by the presentation of appreciation awards to all their suppliers.
Appreciation awards were also presented to long serving employees during the memorable event.
For more information:
TBC ELEKTRIK SDN BHD
NO 398-1 & 399-1, Jalan 1A/1, Bandar baru Sg Buloh,
47000 Selangor
Tel.+603-61567368
URL. https://tbc2u.com
FB. https://www.facebook.com/tbcelektrik